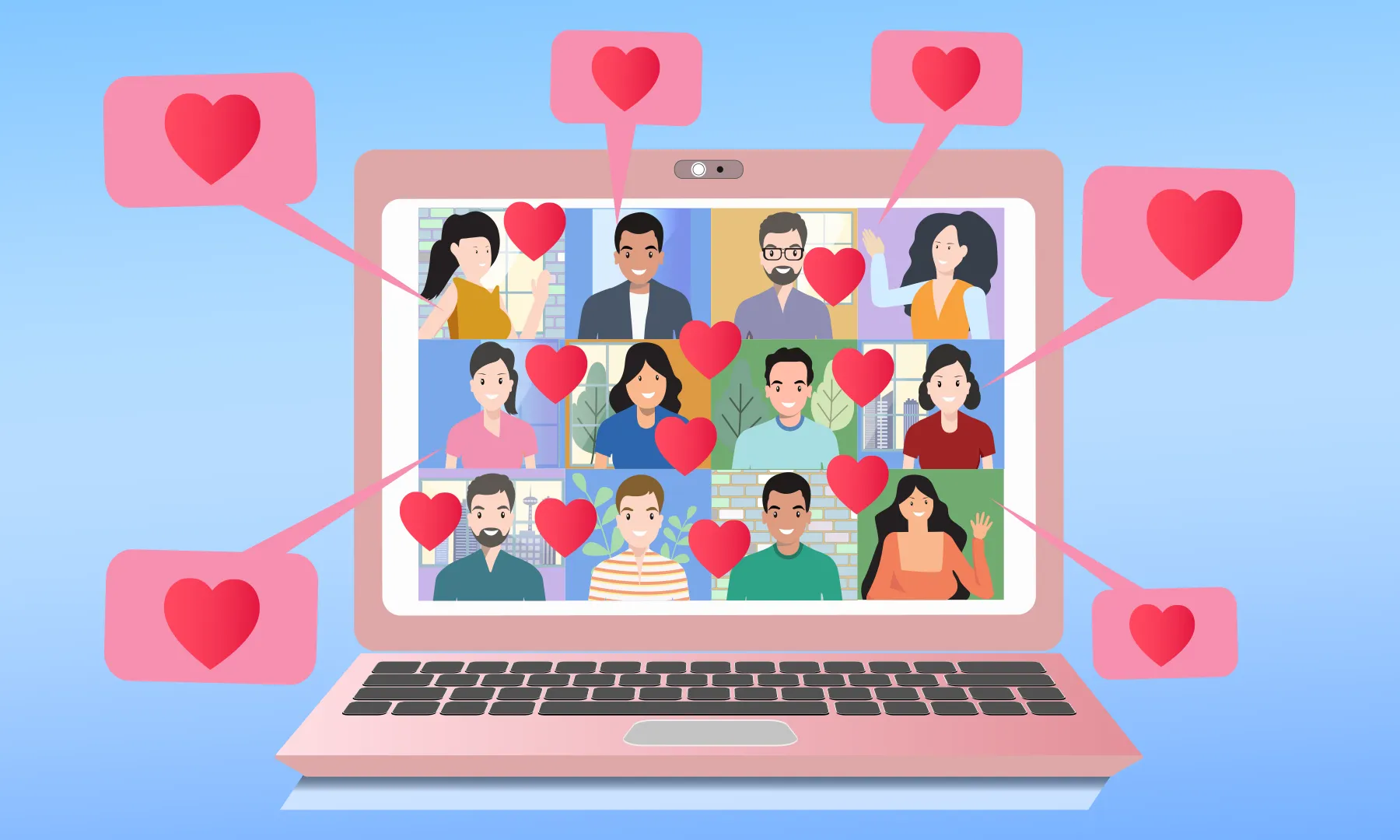 Workplace relations are tricky, and they are typically discouraged by employers. Inappropriate relationships can lead to harassment allegations, unfair treatment, a hostile work environment, or bitter relations between team members. Valentine's is not just about romantic relationships. Here's how you can celebrate February 14th in the workplace in a safe and inclusive way.
How to Plan Valentine's Day in the Workplace
Leverage this time of the year by promoting Valentine's as a celebration of the love that exists between friendships or the bond between team members. It can help the organization in more than one way.
According to HBR, when employees have close friendships with other colleagues, their satisfaction level increases by 50%. An increase in satisfaction results in an increase in employee engagement. So, why lose this opportunity to celebrate workplace friendships?
So, without further ado, here are some fun (HR approved) ways to celebrate Valentine's Day in the workplace and gain all the benefits of friendships in the workplace:
Do a Friends' Valentine's Night
A good idea is to plan a social evening out. Just don't plan it on Valentine's Day since it can clash with employees' plans for the day (or night). A friend's night before or after the actual day can help strengthen the bond between colleagues.
When they are meeting outside of work socially, employees will get time to talk about each other's personal lives and not just about work.
Here are some fun activities that office friends can enjoy together:
Cooking or baking competition – have employees divide themselves into teams or pick teams. The teams then compete with each other in a fun cooking or baking competition where each team prepares a dish and presents it to the rest of the group.
Game night – organize a game night where employees can play games like BINGO, board games, or cards.
Karaoke night – employees can sing their hearts out to their favorite songs with friends.
Wine tasting – plan a wine-tasting party where employees can sample different wines and enjoy some light snack parings. Don't forget to make sure the employees have a safe way home.
Craft night – host a craft night where employees can make handmade goodies. Or plan one at a craft workshop like AR Workshop.
Plan an Office Lunch – one great idea is to plan an office lunch where employees can enjoy yummy food items together. Make sure that HR knows what the employees prefer eating, if someone is vegetarian, or if someone has special dietary requirements. Showing them that the company is accommodating of their different needs is a way to tell them that the company values them – a perfect message for Valentine's Day.
Remember to keep things light and fun. The main goal is to celebrate the love and friendship that employees share with their office friends. So, friendship and fun memories should be the point of focus above anything else.
Plan Some Valentine's Giveaways
In the workplace, plan to celebrate Valentine's Day by focusing on employee appreciation. Giving gift certificates for employees or movie tickets is a good way to allow them to plan their Valentine's Day.
Many of them might be in relationships with working partners. Valentine's Day might be an excuse for them to spend some time together. So, giving them these gifts and allowances adds to their motivation and engagement.
Additionally, giveaways don't have to be expensive. If you have a small budget, giving small cards that have meaningful messages for the employees is enough. They could also give heart-shaped sticky notes to employees, chocolates, or at the very least, an email with a designed e-card for the employees.
Another way to motivate employees is to give them time off on the day if they request it. The time off would help them plan their day with their loved ones or partners. It promotes the employer's promise of a work-life balance to the employees.
Do Activities Together
Valentine's Day is near Random Acts of Kindness Week. A good idea is to couple the two together and organize volunteer events. Here are some ways to celebrate Valentine's Day and do random acts of kindness too:
Organize a blood drive or go together to donate blood – invite employees to donate their blood for a good cause.
Plant trees together – planning a tree together is a fun way to encourage friendships amongst colleagues. It also helps celebrate kindness and love together and is good for the environment.
Spread positivity – ask employees to write positive messages on post-its and place them on their colleagues' desks or send via instant message or email if working remotely.
Valentine's Day in the Workplace – The Verdict
Valentine's Day is a day to celebrate love and friendship. Even though romantic relationships in the workplace give rise to many issues, there's no reason not to celebrate Valentine's to celebrate friendship.
This is a great time to emphasize and encourage workplace friendship and increase employee engagement as well.
The verdict is that Valentine's Day should be celebrated in the workplace.
Summing it Up
Even though many employers discourage workplace relationships, there's no need to ignore the celebrations of one of the most popular holidays celebrated. Understanding what employees need during this holiday could help to plan the initiatives accordingly and get the most out of the planned activities or giveaways.